Spectrum Mobile Data Reportage Vs. Phone Data Reportage TheTekHeads
Posts: 47
I have the 'by the gig' plan and I'm a little conerned about actual data usage. My device (S9) is only reporting 230mb of data being used, however when I log into my Spectrum mobile account, the report is 0.7gb which I would have to assume is 7xxmb. I work from home, I'm on my home Wi-Fi 24/7 99.9% of every day.  I know 500mb doesn't sound like a lot but it means a lot to me when I don't use that much data, and I don't plan on spending another $14 if I go over the 1gb plan by as little as  1mb. I chose this plan for a reason. 
So - Which data reporting is the most accurate? My device or Spectrum Mobile site?
Spectrum Data Report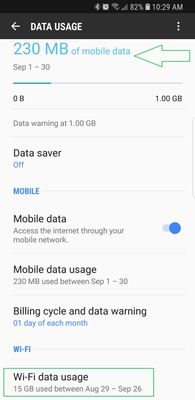 Mobile Data Usage (Device)
This discussion has been closed.